Welcome on Prest'Alsace's Website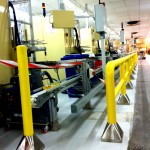 Prest'alsace specializes in the handling of line machine, design and installation of conveyor (Flex Link), workstation development, guardrail, walkway and stairs in the professional industry.
The company is located in Colmar in the Haut-Rhin in Alsace and serves the entire department. The company is equipped for all locksmith work and work in steel, stainless and aluminum.
For individuals we manufacture tailor any type of gate, stairs, railings, smoking room, table and decorative object made ​​of metal. Society transformed by the steel industry all types of metals to produce unique products and qualities.
By contacting us, we will help you give your ideas to life. You have a project in metal work, locksmith , we have the expertise to carry out.